Our guest blogger today is Suzie Gaffney, the founder of Suzie Gaffney Styling. Consider her your own personal trainer for your wardrobe – she'll help you whip it into the best shape of its life, and keep it there! Today she's talking all about Fall Fashion, check it out below!
"It may still feel like the dog days of summer but just like pumpkin spice everything, fall IS going to arrive, and when it does you'll want to know what to add to your wardrobe. Trends come and go every season and while it's fun to try them out the most important thing to remember is to make sure whatever you choose to wear fits you well, flatters your shape, and makes you feel good. One of the most notable trends for Fall 2018 is prints, tons and tons of prints! I'm more of solid girl myself but I love to add pops of prints in through accessories or something statement like such as a jacket or blazer. Whether you want to try a little bit or a lot, I'll break down my 3 top prints to try this season.
Animal Prints
This year we are seeing leopard, tiger, cheetah, zebra and python prints. It's pretty much a jungle out there as far as fall fashion (pun intended!). Leopard is almost considered a neutral by this point and is by far the easiest to match up to an all black ensemble or pair with a pop of red.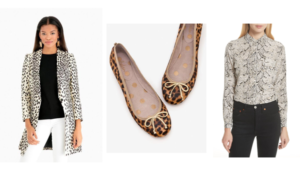 Scarf Prints
This is definitely one we haven't seen for a while and it takes us a bit back to the glam days of Versace with a nod to the classic prints of Hermes. This Zara shirt dress below has been all over Instagram and worn by fashion bloggers to tv anchors. Look to see it on blouses, skirts, and jackets.  Want to try it but looking for something more subtle? Try an actual scarf in brighter colors and wear it instead of a necklace. You can also tie it around your handbag for a simple but luxe look.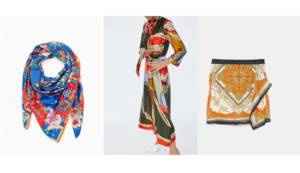 Check Please!
From tartan to houndstooth fall is going to be covered in this classic pattern. Expect a twist by seeing it go from the lining of jackets to being the print of the jacket. Look for different variations on color combos, like this navy houndstooth print featured on these ankle boots. You will also see the checks and plaids on different weights of fabrics, think silks and cotton instead of the usual wool."